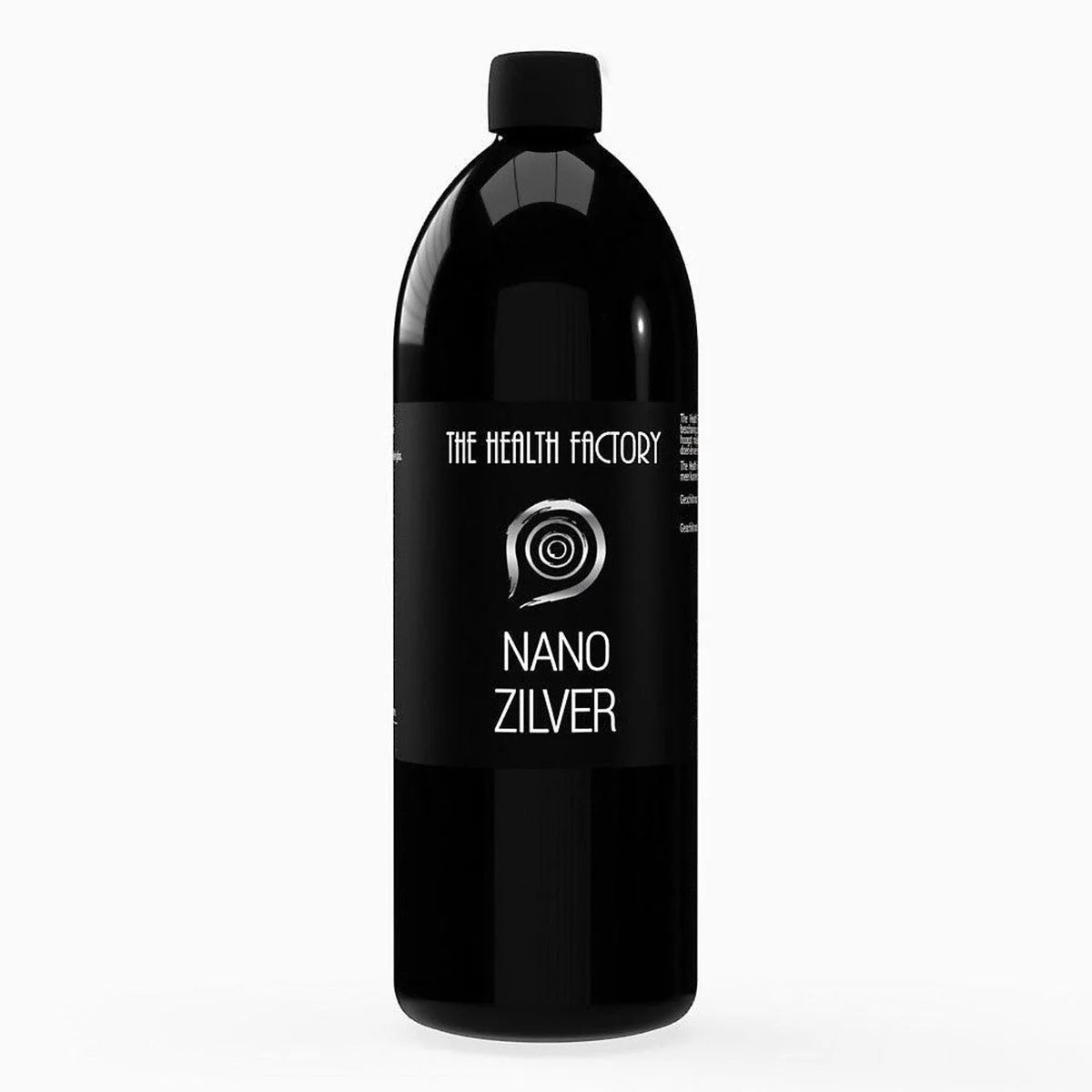 Nano Silver
Nano Silver by The Health Factory is the highest quality of colloidal silver you can get!
Eliminates pathogens
Effective for targeted detoxing
100% pure and bioavailable
Optimize the gut microbiome
Nano Silver (1000ml) from The Health Factory contains very powerful particles of silver that are completely absorbed by the skin and mucous membranes. The particles are positively charged, very small (between 0.114 and 5 nanometers) and abundant (15 parts per million water particles, or 15 ppm).
In case of using Advanced TRS space out with a minimum of 4 hours.


Dosage
5 ml/ 1 teaspoon to 30 ml/ 3 tablespoons per day. Maximum 90 ml/ 9 tablespoons per day.

Build up slowly for the first time. Depending on the diversity of complaints and constitution of the person, start with 5 or 10 ml and build up in steps of 5 or 10 ml per day to 30 or 60 ml.

The average effective dose is 30 ml per day, this can be individually different, for example 60 or sometimes 20 ml per day. When detoxification reactions occur during the use of silver, reduce the dose and later increase it again until the desired effect is observed. If the desired effect is not achieved, increase the dose to 90 ml per day. We recommend using this dose for a maximum of 14 consecutive days. An increase in the recommended 30 ml dose may be desirable in the event of acute inflammation, long-term constipation, severe flu or cold sores, for example.

Instructions

Nano silver can be taken directly from the bottle. Preferably on an empty stomach. Keep the silver 1 minute in your mouth for better absorption.

Can also be used topically direct on the skin, mucous membranes, open wound, fungal nail or in the ear or eye.

Nano silver can be used short or long term
Short-term for temporary skin or eye infections or for support, for example together with cranberry for a bladder infection, or together with zinc or echinacea for flu and colds.

In case of chronic or recurring complaints, we recommend using silver for at least 4 weeks to give the immune system a "boost" and to rid the blood and organs of excess waste.
1000ml Distilled and demineralized water with 15mg/l (15ppm) mono-atomic, di-atomic and nanoclusters silver (Argentum)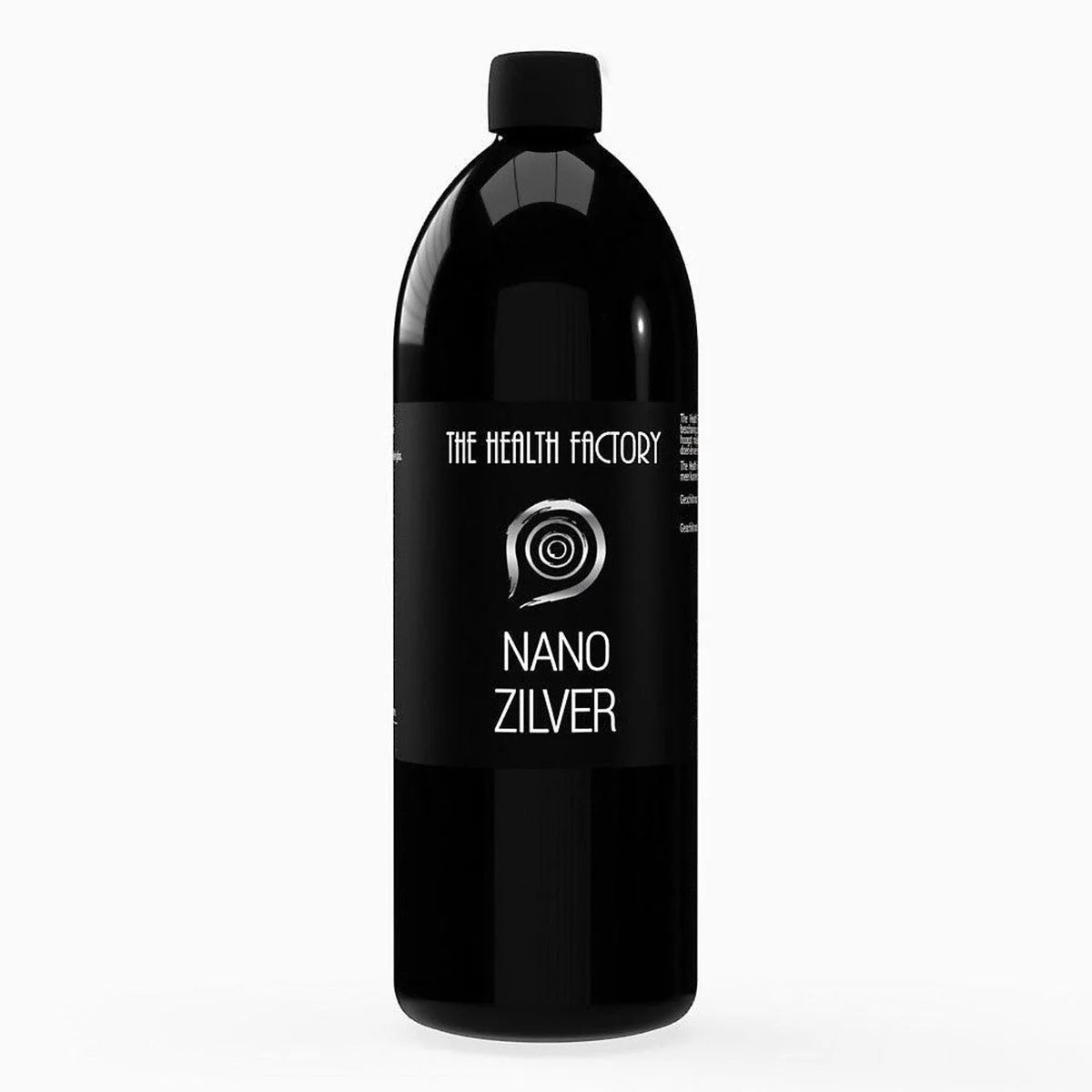 Nano Silver
Sale price

545,00 kr
Regular price

566,00 kr
(/)
Nano Silver
Nano silver is a form of colloidal silver. Colloidal silver kills pathogenic bacteria, viruses, fungi and yeasts to protect ourselves and our environment against unwanted intruders.
Full Webinar on Nano Silver
Indications for use
A sore throat
Adrenal Fatigue
Allergic skin rash
Allergies
Acne
Burns
Candida
Caries
Chicken-pox
Cystitis (chronic)
Cold
Cold sore
Constipation
Diarrhea
Disinfection
Ear infection
Eczema
ENT complaints
Eye inflammation
Flu
Gum problems
Hives
Herpes
HPV virus
Immunity weakening
Leaky gut syndrome
Lyme
MRSA
Mouth odor
Perspiration smell
Pfeiffer
Psoriasis
Reduced resistance
Rhinitis
Shingles
Skin complaints
Stomach ulcer
Sweaty feet
Warts
This product has no reviews yet.