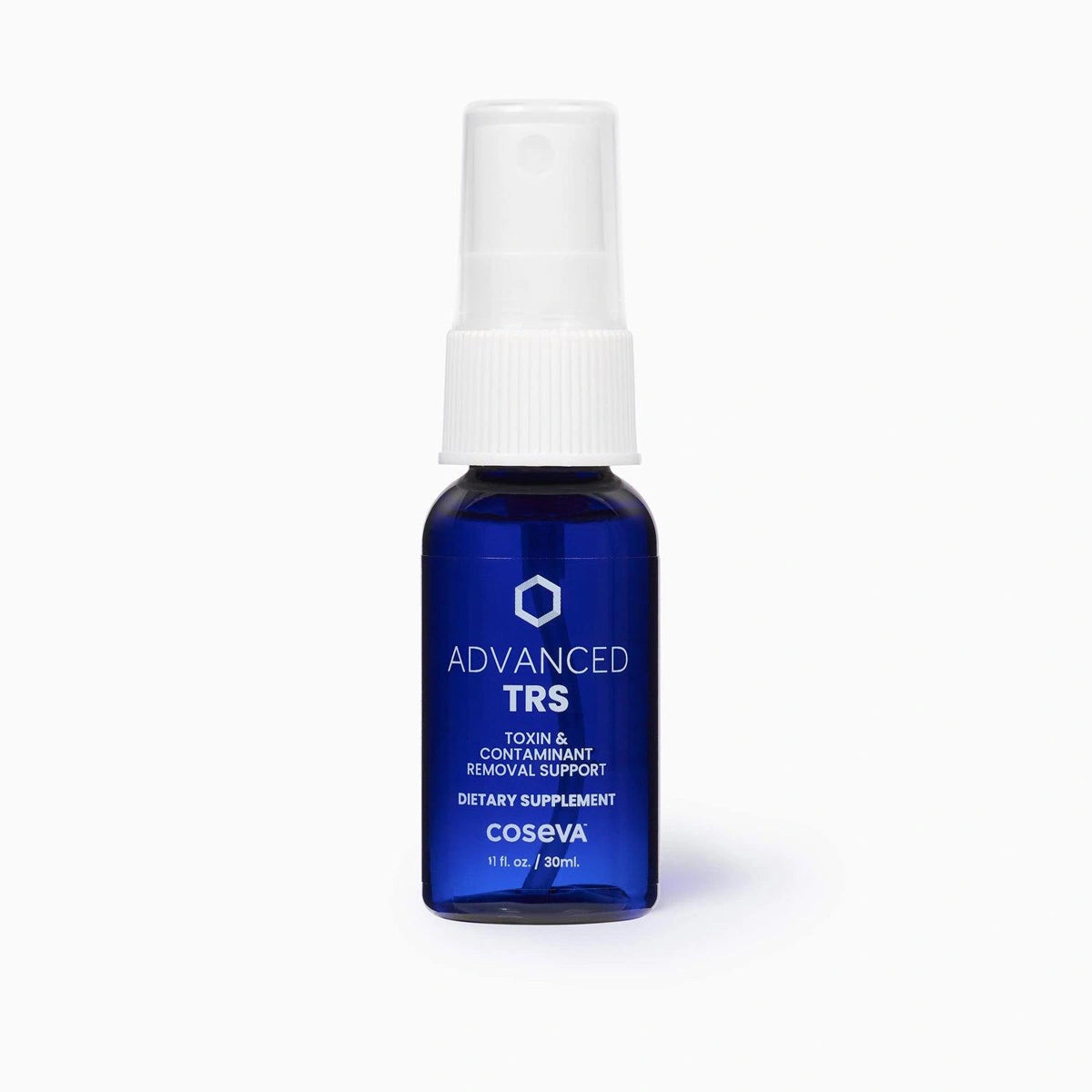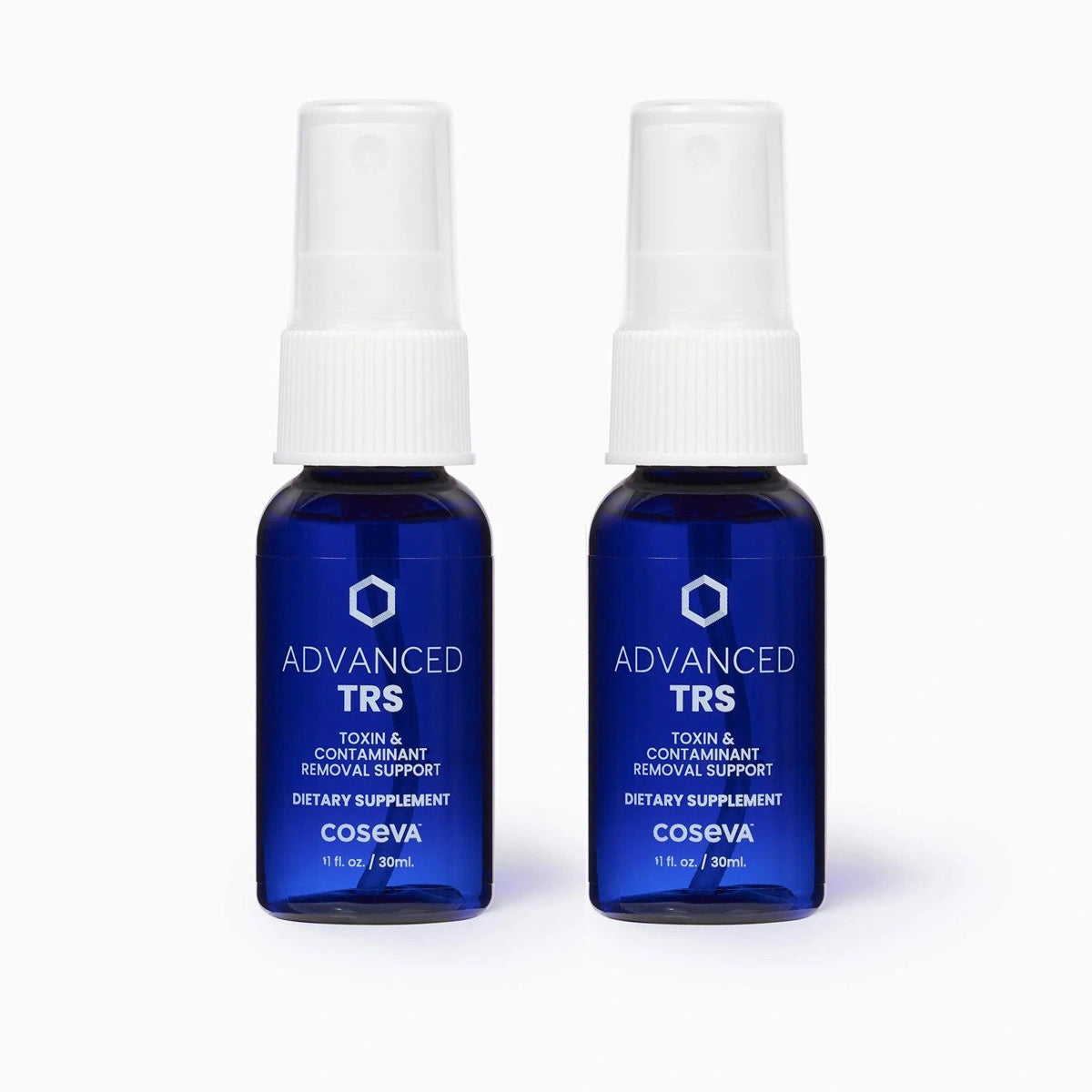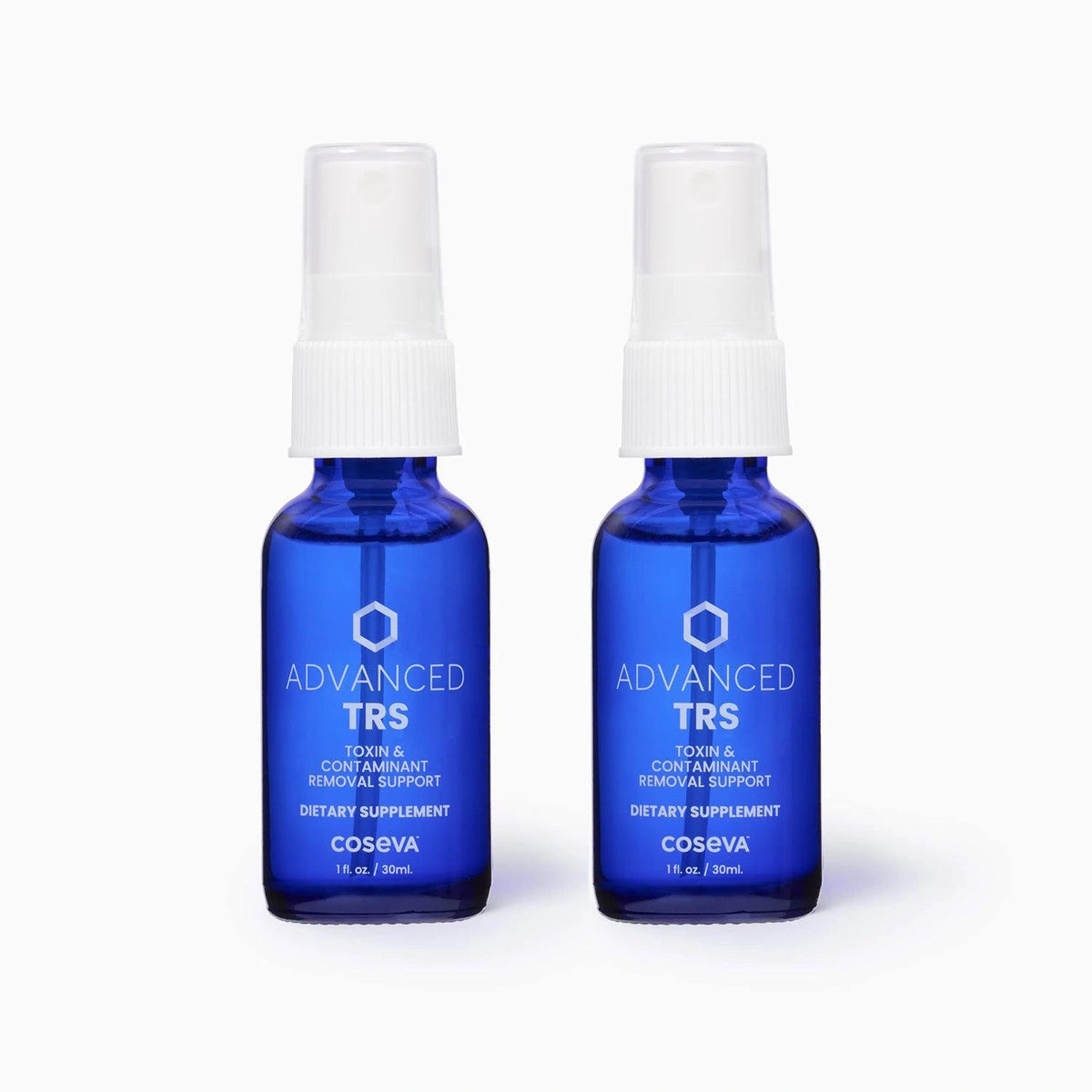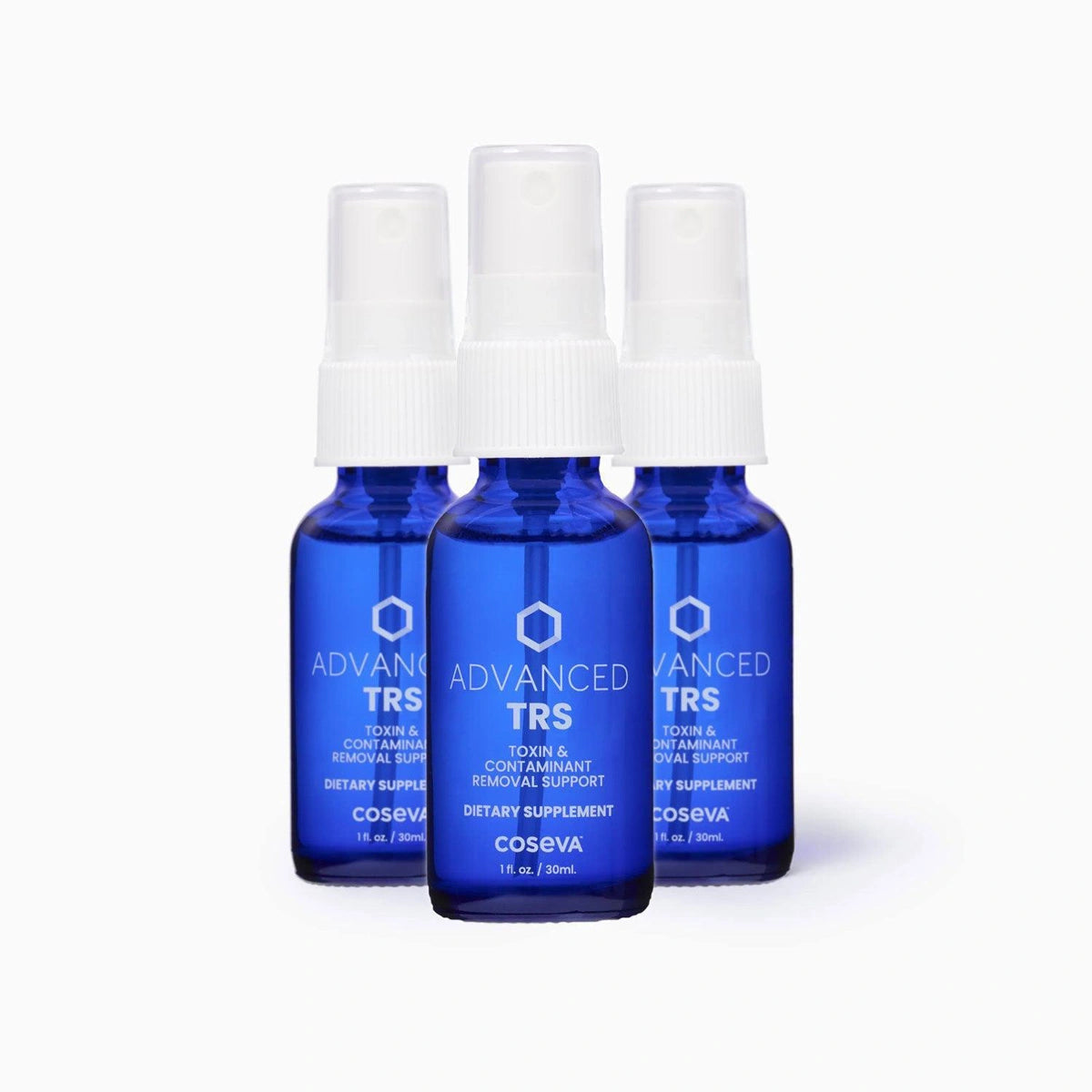 Advanced TRS
Advanced TRS is the Safest & Most Effective Method of Toxin & Heavy Metal Removal. It's safe for all ages!
Removes heavy metals & toxins
Detoxes on the cellular level
100% pure zeolite
Boost immune system function
*Orders are shipped and processed by Coseva directly from USA.
Advanced TRS (Toxin Removal Support) is a 100% pure nano-zeolite product. It's a safe and high quality product that creates detoxification by attracting, trapping, neutralizing and finally naturally removing heavy metals, chemical toxins, radioactive toxins and free radicals from the body. 
It is recommended to slowly build up to 5 sprays a day. Only increase dose if tolerated well.
Week 1: One spray a day
Week 2: Two sprays a day
Week 3: Three to four sprays a day
Week 4 and after: Five sprays a day
One bottle contains 140 sprays and lasts 4-8 weeks.
Continue use daily for at least 3-6 months.
Proprietary Lab-Made 100% Pure Clinoptilolite, Ultra-Pure Water

Coseva's proprietary formula is clinically proven to support cellular toxin removal, 100% pure and non contaminated.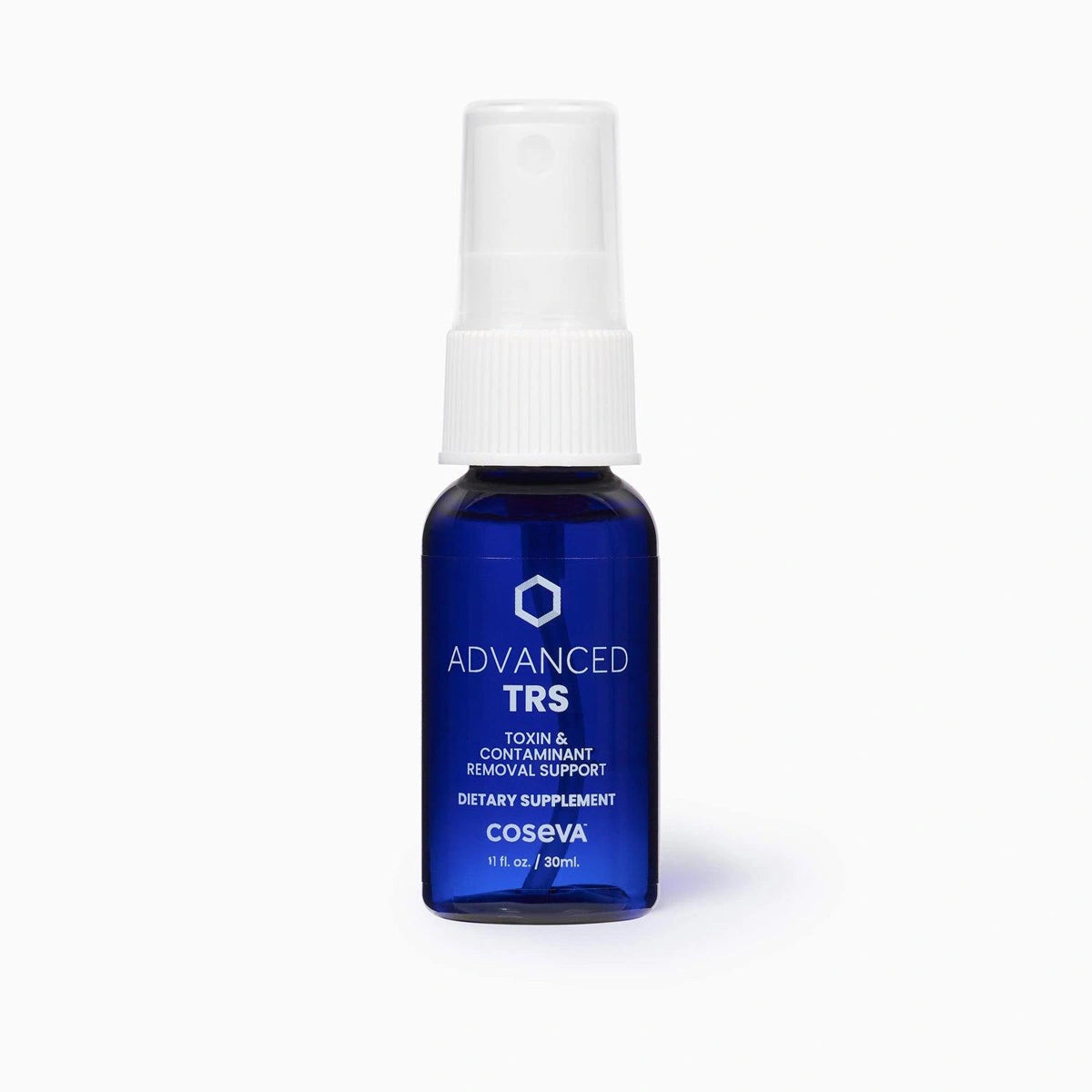 Advanced TRS Detox Benefits
As we are increasingly exposed to heavy metals and toxins, our bodies become more toxic and less able to remove them. Detoxing with Advanced TRS can help to restore your body's full potential. The following results are often reported:
More Energy
Sharper Mind
Better Digestion
Stronger Immune system
Improved Sleep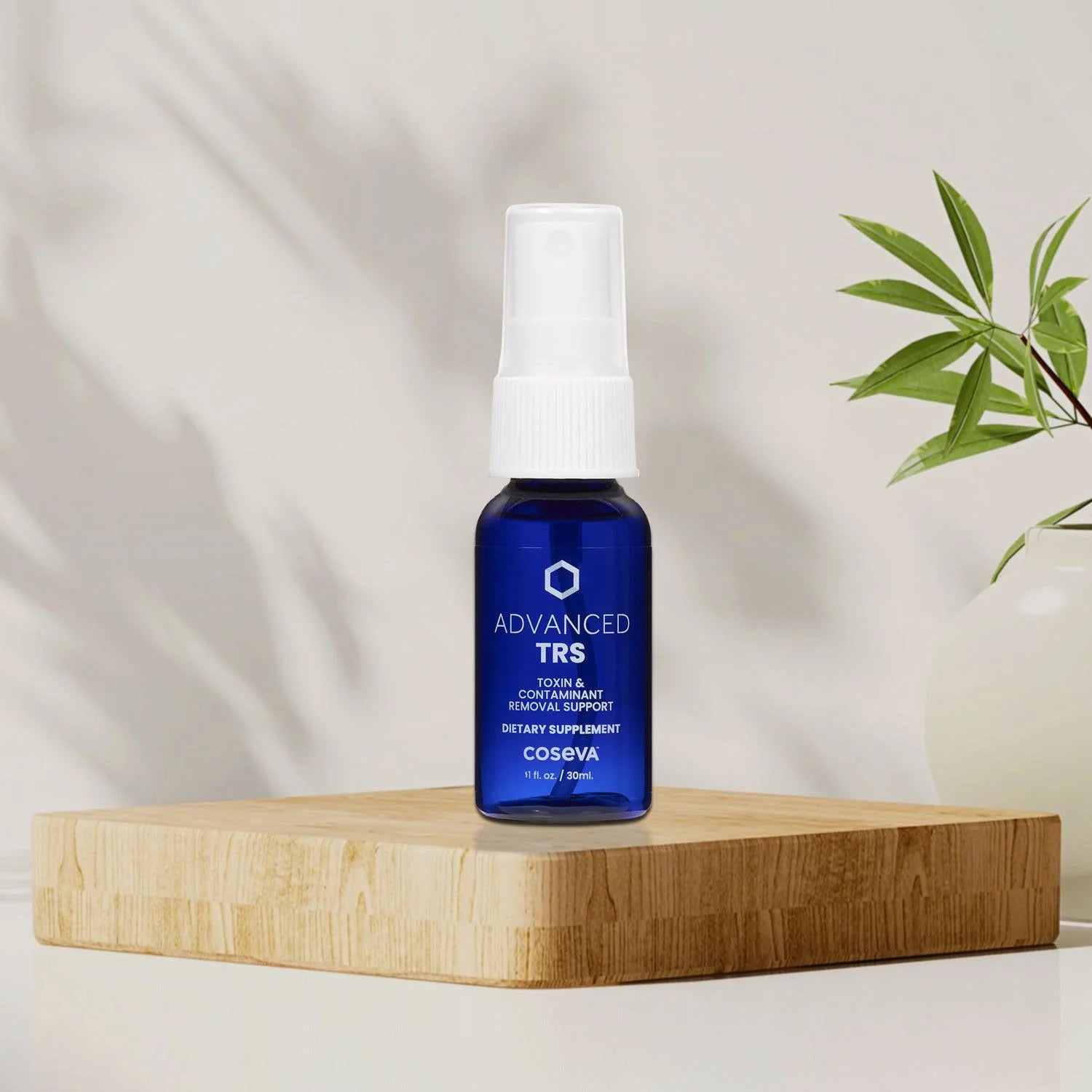 How does Advanced TRS Detox work?
Advanced TRS is a nano-sized form of zeolite. Zeolite is a well studied mineral that has proven to absorb large quantities of toxins.
Zeolite is attracted to negatively charged particles such as toxins and heavy metals. Advanced TRS safely attracts, traps and neutralizes these particles. Due to its nano size it is able to detox anywhere in the body where water goes.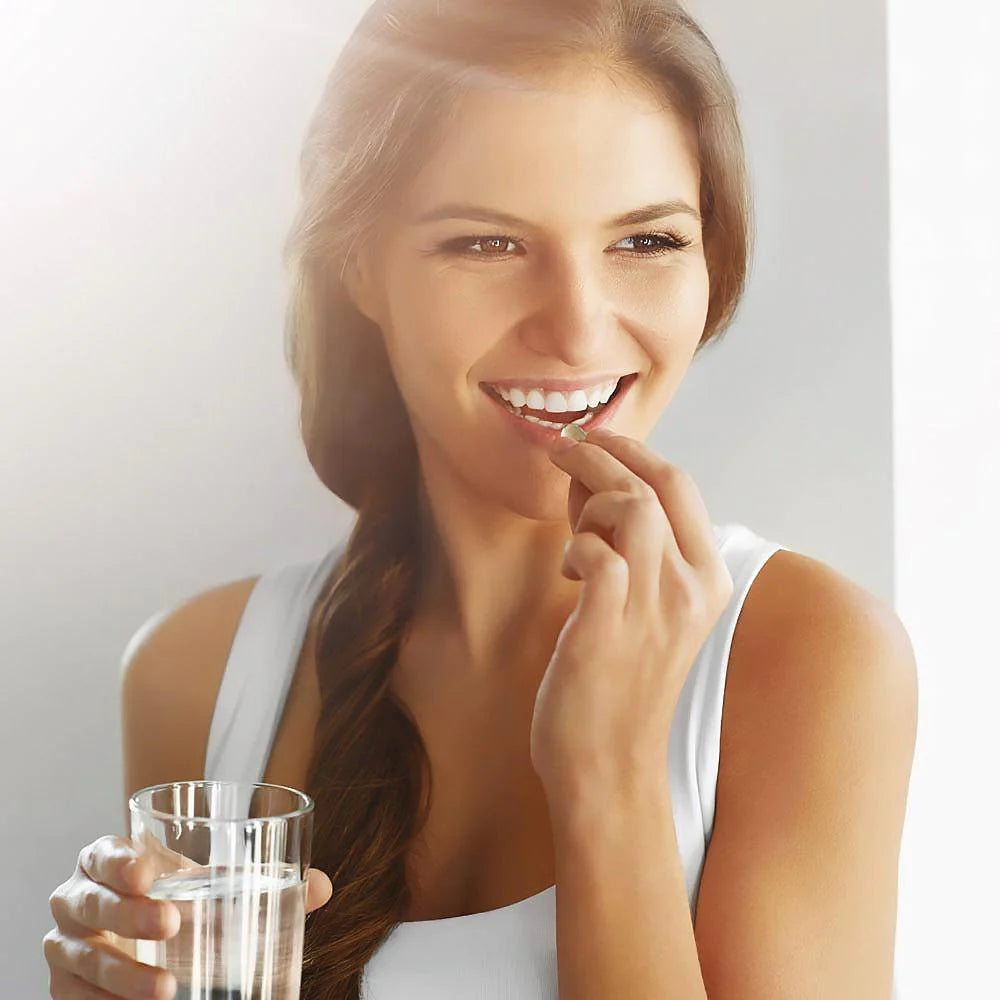 Why Choose Coseva Advanced TRS?
Advanced TRS is designed to remove more toxins than any other zeolite solution. Because its 100% pure and nano-sized the power of Advanced TRS can be compared to 9 kilos of a basic zeolite powder. Zeolite powder does not detox behind the intestinal wall while Advanced TRS covers the whole body.
Coseva's proprietary formula is clinically proven to support cellular toxin removal.
How do I know if I need Advanced TRS?
Your air, water and food are saturated with toxins—that means your body is too. On its own your body has great difficulty in removing them.

Heavy metals disturb the immune and endocrine systems and create mineral imbalances. It can take a while before symptoms appear.
Advanced TRS removes toxins with every single spray. Everyone benefits from a less toxic body. If symptoms are present Advanced TRS can help your own body fight them.
Independent Third Party Testing
Each batch of Advanced TRS is rigorously tested, both by Coseva and with independent 3rd party laboratories.

Results guarantee its molecular makeup is that of 100% pure clinoptilolite and that it is completely free of any heavy metals or other contaminants.
See Independent Test Results
F.A.Q.
Your Questions about Advanced TRS answered
Is Advanced TRS safe for children?

Yes, it is safe for children. Follow usage instructions to slowly build up dosage.
How long do I need to use Advanced TRS?

It is recommended to use Advanced TRS daily for at least 3 to 6 months. It varies greatly per person if one benefits for a longer period after that.
How do I know if Advanced TRS is working?

Heavy metals and toxins will be removed with every single spray. The best way of knowing if TRS is "working" is that the symptoms which you are suspecting are due to heavy metals toxicity are improving. We suggest a minimum use of 3 months to make a good observation.
What heavy metals and toxins does Advanced TRS remove?

Advanced TRS removes any element that has a positive ionic charge, such as mercury, lead, nickel, aluminum, cadmium, arsenic, pesticides, mycotoxins, chlorine and over 80,000 other toxins.
How long does Advanced TRS stay in the body?

Digestion time can vary among individuals due to differences in their digestive systems. In the 1980s, researchers at Mayo Clinic measured the digestion time in a study involving 21 healthy individuals. The average total transit time, from food intake to elimination in stool, was found to be around 53 hours. Specifically, the average transit time through the large intestine (colon) was approximately 40 hours. Notably, there were notable differences between men and women, with men having an average transit time of 33 hours and women averaging 47 hours.

Consistently taking Advanced TRS on a daily basis will lead to a stable level of zeolite in your digestive tract. Once you discontinue the use of Advanced TRS, it typically takes a couple of days for the zeolite to completely clear out from your system.
Should I take Advanced TRS with my meals?

Advanced TRS, should be taken alone, neither with food nor with other supplements. An interval of 4 hours is adequate.
How does Advanced TRS not absorb essential nutrients from the body?

In our bodies essential minerals are quickly bound into neutral salt form. Zeolite is not attracted to these bonds. The toxins, however, are not used in the body and thus are not converted to salts.
Can you use Advanced TRS to detox animals?

Yes, studies have shown manufactured clinoptilolite to be a safe method for detoxing animals.
What is the shelf life of Advanced TRS?

Coseva guarantees a 5-year, 100% effectiveness.
Why is Advanced TRS produced with a manufactured zeolite?

Natural zeolites require a purification process, but it cannot match the purity and effectiveness achieved by Advanced TRS. The purity and the ability to control the size and structure of the molecule enables Coseva to achieve a smaller size and higher saturation rate.
Does Advanced TRS cause mercury fillings, dental work or artificial joints to leach heavy metals into the body?

No, Advanced TRS will not cause leaching of metals into the body. It does pick up particles that leach or have been released in to the body. You can use Advanced TRS if you have Amalgam fillings.
Will Advanced TRS remove supplements I take?

Coseva suggests taking micronutrient minerals at least 4 hours before or after using TRS. After entering the body, essential minerals, crucial for maintaining good health, promptly form bonds with other substances that neutralize their ionic charge. This preservation process ensures their availability for the body's utilization.
What are possible detox symptoms of using Advanced TRS?

Detox symptoms can appear and are mostly temporary. Slowly building up dose is essential.

Fatigue
Headaches
Digestive issues
Flu-like symptoms
Skin reactions
Mood changes
Brain fog
Is Advanced TRS safe during Pregnancy?

We have seen no evidence that Advanced TRS is not safe for women who want to become pregnant, are pregnant, or have recently been pregnant. Advanced TRS is not fat soluble. Always consult with your physician before taking any supplements including Advanced TRS.  
Are there clinical studies that confirm capture of metals from tissues?

Yes. Clinoptilolite's ability to capture toxins is well documented on pubmed.gov and medline.gov.
Our customer support is available Monday to Friday: 8:30-17:00
Average answer time: 24h
This product has no reviews yet.